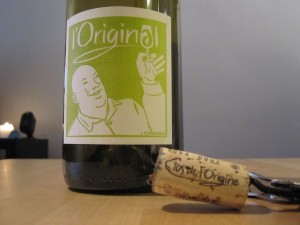 Clos de l'Origine – Marc Barriot 1 Route de Lesquerde 66460 Maury Tél. 09 52 15 03 17 Fax : 04 68 53 10 38 Mobile : 06 75 03 71 71
www.vin-de-l-origine.com
Marc Barriot, originally from Bandol, obtained his BTS in Viticulture-Oenology in 1995.  After obtaining his degree, Marc chose to travel the world to  hone in his skills and to gain experience.  He finally settled in Maury in 2004 where he now cultivates 10.5 hectares of vines spread across several communities: Estagel, Montner, Latour, Maury and Caudies.  He discovered slopes with magnificent old vines (min 65 yrs, except for the Syrah).  Marc maintains low yields in the vineyards and he works them with love with his mule.  He has been farming organically and biodynamically since the very beginning.   Most of Marc's vineyards are certified organic from the 2009 crop. Marc vinifies his whites in tank and old barrels and the grapes are harvested "green" to promote acidity, and subsequently bottled the following year with minimal use of sulfur.
The Trouble Fait is a blend of Muscat à Petits Grains and Muscat d'Alexandrie.  The Petits Grains grapes come from a small 0.61 ha vineyard in Estagel with an output of approximately 13hl/ha.  The Alexandrie comes from another small 0.3 ha vineyard in Maury with an output of about 3hl/ha. Talk about microscopic quantities.  The grapes were picked early (as they do in Italy) to preserve acidity.  Harvest was carried out by hand.  Fermentation was spontaneous and the  juice was left on the skins for a week at very low temperatures to preserve the structure and aromas of the muscat grape.  Total fermentation lasted approx 35 days.  Five months aging followed on the lees in barrels.  The wine was bottled Manually in June 2009 without fining or filtration. 1300 bottles were produced in the 2008 vintage.  No Trouble Fait was produced in 2009 because it was to hot for dry Muscat according to Marc.  He plans to produce 1400 bottles in 2010.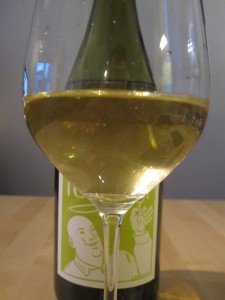 Date tasted:  November 2nd, 2010 16:30 (4:30pm)
Appearance: Golden Yellow with greenish/blue highlights, not totally clear, which I typically like.
Nose: Medium intense, young and open wine with aromas of pure, sweet citrus fruits. Oranges and orange peel. Hints of candied, bitter orange peel and minerals. Lemon/lime soda
Palate: Medium intense, very dry wine with very little residual sugar (in fact 3 g/l according to Marc). Medium long, fresh acidity with well integrated alcohol (12,5%). Yellow citrus fruits mostly with a medium length, slightly bitter, mineral aftertaste. Very fresh, medium bodied and delicious wine.
18:10 (6:10pm)
Nose: Lemons and hints of ginger appear for the first time. Orange peel
Palate: Limes, and very light hints of some under ripe apricots. Marc picks his fruit early, and it is evident, giving the impression that this wine is from cooler climate than it actually is. The wine now seems less ripe then when the bottle was first opened. This being said, the wine is not green.
November 3rd, 22:26 (10:26pm)
Nose: Sage and basil emerge
Palate: a tad fruitier today, but still the acid is a bit dominant. More herbs today both on the nose and palate then yesterday. Bitter almonds
*Very well balanced, but I would like a bit more fruit for the sake of high acidity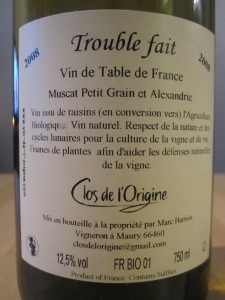 November 4th, 22:09 (10:09pm)
So many herbs both on Palate and on the nose. Still wish the fruit was a bit riper, but still, I can't stop drinking this wine simply for it's drinkability and deliciousness.
I like this wine overall and enjoyed drinking it over several days.  Even though low in alcohol and easy to drink, I am convinced that this would go well with food, especially shellfish.  I can't help to wonder how this wine would taste with a bit riper fruit and with a little less acidity.
I have also tasted the other wines of Marc Barriot and I am particularly impressed with his whole cluster fermented Syrah called the Mon P'tit Barriot. Marc's wines are not available in Norway today, but will be available in very limited quantities by the end of November at a reasonable price.