I had the opportunity to check out the Gruppo Vini Veri, Vino Vino Vino 2009 gathering at Villa Boschi in Isola della Scala, Verona Italy last week.  I had never been to this gathering before, so I really didn't know what to expect. Although some things impressed me, I was also disappointed by others. Of course I didn't get to taste everything, but from my sampling, here's my personal feedback.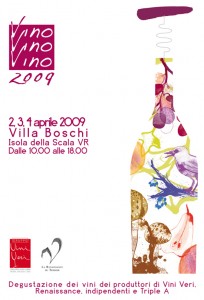 First, the positive. Many exciting wines coming out of Sicily. These Sicilians, especially around Mount Etna, are delivering fresh and interesting wines from  indigenous grapes. White wine grapes like the Carricante and red wine grapes from the Nerello family. What really impressed me the most about these wines was the freshness, something you are seeing more of in well-made Sicilian Wines. Many of these wines were natural, without the addition of Sulphur Dioxide, no filtering and thankfully, no oak. Many of the wines were fermented/stored in cement, steel or amphora's.
It was also nice to see many "orange wines", white wines made using maceration techniques (letting the grape must sit with the grape skins for some days) rendering some white wines with a more orange-like hue. Although some of these were exciting, fresh and well-made, many were over-macerated, overly tannic and bitter. Just because this old wine making technique is coming back into fashion, doesn't mean you should be (over) doing it! Listen up!
Then, there were too many wines from the region of Tuscany. It seemed that upwards of 25% percent of the producers at this gathering were from Tuscany. Although there were some interesting (and excellent) wines from Tuscany,  I found most to be too similar and un-interesting.
The most disappointing thing for me, however, was the shortage of non-Italian wine makers. I understand that Italy has more vineyards being farmed organically (up to 5 times) than other European wine-making countries and that we were in Verona, Italy, but I would have liked to have seen more French, Spanish, Portuguese and German (etc.) wine makers at this gathering.
Overall, I can see that producing natural wine is becoming fashionable and trendy. I am glad that at least natural products are becoming trendy and fashionable, but I felt that there were too many wine makers making natural wine because it was the fashionable thing to do. Thankfully, you can taste who these copycat producers were, and they were not good.
I would like to end this entry on a positive note by saying that I was happy to meet some wine-makers whom I have had some contact with both personally and of course through their wines:
Drink more naturally made wines and wake up the next day feeling fresh!