100, Rue Théodore Deck
68501 Guebwiller Cedex
Alsace, France
Phone:  +33 (0)3 89 74 27 00
A little information about the Saering Grand Cru Riesling:
"This "terroir" slips down the mountain side and extends like a peninsula over the plain, forming the shape of a ring. These plains were covered by great oceans over one thousand million years ago. And so the Searing earned it's nickname "the sea ring". "Ring" was also employed to talk about a Roman Camp "Seh" comes from "sehen" (meaning "to see" in German); and it is now proved that an observation camp was indeed erected there. The stony and rather heavy soils of this Grand Cru are perfect for Riesling growing. Saering was first mentioned in 1250 and marketing began under this name in 1830." (from the Schlumberger website)
Date tasted: Tasted blind (involves tasting and evaluating wines without any knowledge of their identities) on June 14th, 2009 19:00 (7:00pm)
These are my tasting notes exactly as I wrote them the time of the blind tasting: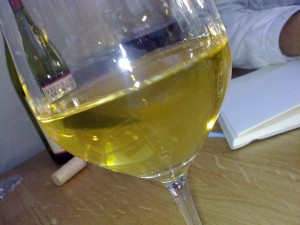 Appearance: Dark golden yellow.  Some development showing, but not much browning of the edges.  Medium to medium plus intensity.  Clean
Nose: Clean? On the nose, hard to tell if this is a good bottle or not, or over the hill.   Slightly oxidized, with hints of caramelized lemons.  Herbs and hints of petrol and minerals. Really ripe yellow apples, especially the core of the apple. I am guessing Alsace or Germany right off the bat based on the nose. We  are tasting this wine blind, so with the slight oxididative notes, we aren't sure.
Palate: Dry. Medium to Medium plus acid. Good concentration. Salty hints. Quite developed. Guessing to be at least 10-15 years of age.  Quite a bit of weight. I'm thinking Pinot Blanc because of the hefty weight of the wine on the palate. Many people from this group are thinking it's a Chardonnay, but the acidity is too high and it is not weighty enough in my opinion.
19:40 (7:40pm):
hints of that saltiness are still there. Smells a bit like blue cheese.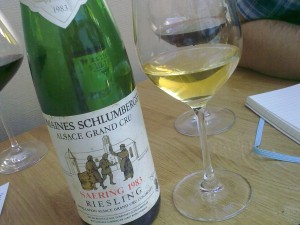 Nobody took this wine (that is nobody managed to guess what it was they were drinking), but many were in the Chardonnay camp. I of course didn't peg this either. My guess was Alsace or Southern Germany and ultimately guessed Pinot Blanc.
The acidity was quite high, but not as a high as what I would have expected from a Riesling.  Of course, this wine was 26 years old, so the acidity had softened quite a bit, making it a bit harder to peg.  It didn't help that I guessed this wine to be only 15 years old due to the overall freshness. It also had a bit more weight than a Riesling and hence I landed on Pinot Blanc – a grape that in blind tastings can be confused with the Chardonnay, or at times even Riesling.
I did notice hints of petrol on the nose as I indicated in my tasting notes, but age can play tricks on a wine and even other grapes besides Riesling can gain hints of  what we call "petrol" as they age, especially wines high in minerality.
We should all blind taste as it excercises a part of the brain that we don't often use and can help us to better understand what is in the glass.  Plus it's fun!