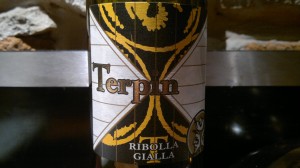 Azienda Agricola Franco Terpin
Loc. Valerisce n°6/a
34170 – San Floriano del collio – Go
Tel +39 0481 884215
If you haven't yet tasted the wines from the Friuli-Venezia Giulia area of Italy, then perhaps you should.  Sitting in the furthermost North East Corner of Italy bordering Slovenia, this wine region has been getting a lot of attention lately. Is this because the majority of Italian skin-macerated whites (aka orange wines) hail from this region? Is it because the  region produces age-worthy, mineral wines that make you sit back and say "huh…what grape was this again?"?  Is it because this is the home of many natural wines, which also gets a lot of attention these days?  I would place a check-mark next to "all of the above" because these wines are serious.  And many are seriously good!
Most  of the producers (and grapes) in this area of Italy have names that the rest of Italy cannot pronounce. Take Vodopivec for example and the only grape they vinify, the Vitovoska. Even the wines made in this corner of Italy stray from the every-day wines that the average Italian recognizes and consumes. Yet, these are very much wines. These are living wines, often made only with grapes. Nothing added, nothing taken.
The wine for this tasting note was produced by Franco Terpin. A little easier to pronounce, yet far from typical.  Franco farms in a natural fashion without the  use of industrial fertilizers, herbicides or pesticides.  "The vine listens. The vine understands", says Franco.  Franco says that the Ribolla Gialla (called Rebula in this area) is difficult to grow and he only vinifies it in exceptional vintages. Harvest is done by hand, fermentation  (initially in steel) is spontaneous thanks to the extended skin contact.  The wine is then transferred to oak where it spends about one year on the lees. It  is then transferred to stainless steel where it spends another year. Then it's bottled without fining or filtering and is left to rest for yet another year before going for sale.  Approximately 2500 bottles produced.  This wine is not available in Norway or Poland.
Date tasted: Tuesday May 17th – Norwegian Independence day – 1845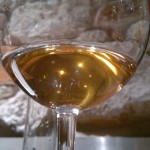 Appearance: a slightly cloudy, orange-hued wine with a high intensity reflection. I just love the look of orange wines!
Nose: Oak  jumps out of the glass at first, with hints of reduction. Not a lot of fruit showing at this time. Mineral.  Some orange peel emerging, but the wine is still closed and not showing well yet. Some very slight, slight balsamic hints.
Palate: mineral, dry and surprisingly, the oak is less evident on the palate. The wine is quite intense on the palate and ends (many seconds after first entering the mouth) with a slight bitterness.  Medium-high acidity. Alcohol seems high, yet is well-integrated. The wood dries out the mouth very slightly, but not offensively . Very focused finish. Reminds of the peach iced-tea I just drank.  Super food wine i would imagine.
Wine is decanted………
Same night at  20:25:
Appearance hasn't changed
Nose: More fruit has emerged. No sign of oak anymore. More herbs.
Palate: Still quite mineral. Oily. Orange peel. Pork fat, bacon. Alcohol is the only disturbance here, but the wine has been sitting in a decanter for almost two hours at room temp. Sits a long time on the palate. again, serious food wine. Fatty, oily. Texture is nice.
as we finished the last sips about an hour later, the wine had developed the sort of texture that helped the wine  just slip easily down the throat