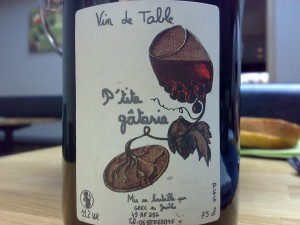 Date tasted:  June 2nd, 3rd & 5th, 2009

Located in the Anjou region of the Loire Valley in France, the Domaine Griottes is a natural wine maker making very interesting wines.
This wine is a Vin de Table, or Table wine,  made with 40% Pineau d'Aunis, 30% Grouillot and 30% Gamay.  The Pineau d'Aunis grape was more widely planted in the Loire in the past but has been largely ripped out to make more room for commercial grapes.  Dating back to medieval times,  this individual variety bears small black grapes.
The grapes for this wine are picked entirely by hand.  The maceration period is between 60-70 days in fiberglass.  No treatments, no sulfur, no filtration nor fining.  Only indigenous yeast – spontaneous fermentation.  This wine was bottled around August of 2007 and is totally without any additives.  It's totally natural.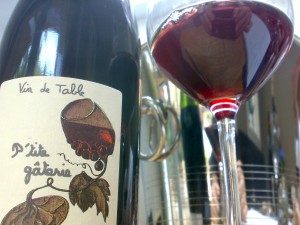 First tasting (June 2, 2009 15:00):
Appearance: Light Color. Dark pink rose pedal, light red. See through like a Pinot Noir. In a blind tasting, the Pinot Noir would be the first grape I would think of.
Nose: Incense, white pepper, black tea, musk, cherry and raspberries. With some air, hints of blackberries also emerged.  Very complex for a light & fresh wine with only 11% alcohol. Hints of saddle or baseball mitt and hints of licorice also emerging.
Palate: Light and fresh with medium plus acidity.  Medium fruit tannins with precise, focused fruit shining through. Red plums and plum pits.  Long, fruity finish with persistent well-integrated tannins.  The alcohol is extremely well integrated.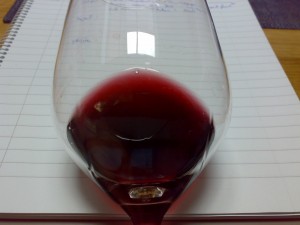 Second tasting (June 3, 2009 23:56):
Appearance: Only slightly darker, but not much color change noticeable.
Nose: Less of the exotic spices, more dark plums and hints of blackberry. Seems a bit more closed tonight then it did yesterday afternoon..With more glass swirling, more of the pepper and licorice emerged again.
Palate: Tannins are firmer than yesterday, but still only at a medium minus to medium level.. Some roasted meat aromas and rosemary. Dark plums.  Acidity still medium to medium plus.   Some hints of pepper, smoke and minerals in the background.
Compared to yesterday, less aromatic and spicy on the nose.  Not as exotic.  A bit more focused and serious.  Good concentration while still remaining light and fresh with a 30 second finish.  The alcohol is a bit more noticeable than yesterday.. Will retaste tomorrow.
Third tasting (June 5, 2009 00:49):
Nose: Again, less exotic and less "spicy".  More perfumed and floral.  Dark plums and morel cherries.  Hints of red fruit and anise.  A bit nutty.
Palate: Superb concentration with hints of hazelnuts.  A bit darker fruit, plums and some blackberries, with supporting red fruit like raspberries.  Mild plus tannins. Medium acidity.  Quite elegant and long with a smoky aftertaste.  Surprisingly structured and still drinking well.  A bit more serious than yesterday with very well integrated alcohol.  Drinking very well today.
Open for almost 3 days and stored in the cellar at around 16°C, and still beautiful, in fact perhaps better than when I opened.  Who says you need to add sulfur to wine to keep it once opened.  In my opinion, natural wine is alive and with a little air and some days exposed to oxygen, the wine fully comes alive and expresses itself.  In contrast, conventional wines made from grapes with pesticides and then manipulated in the winery, are dead and once opened and exposed to oxygen, only decline…
I will continue to focus on wines made naturally and I will hopefully also eventually have the will power to keep a bottle open for a longer period.  Please stay tuned.