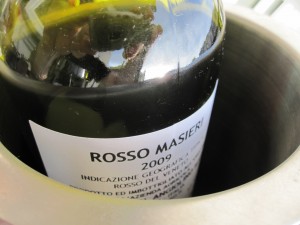 La Biancara di Angiolino Maule Contrà Biancara 14 Gambellara (Vi) ITALIA
Tel:  +39 (0) 444 444 244 Annual production:  35,000 – 45,000 bottles
Angiolino Maule owns 11 hectares (& rents 2ha more) of vineyards on volcanic soil between the provinces of Vicenza and Verona, an extension of the Soave foothills in the Veneto, in North Eastern Italy. The Veneto is a region traditionally famous for the Soave white wines and the dark, rich and typically hugely alcoholic Amarone della Valpolicella wines.  But Angiolino is traditional in another way, working the vineyards as naturally as possible without the use of any synthetic or chemical additives, industrial fertilizers or any other artificial soil treatments.  Rather, he practices biodynamics and uses only natural preparations in the vineyards.
Angiolino's philosophy is carried through to the cellar where his wines spontaneously ferment with only indigenous yeasts.  He doesn't control temperature during fermentation, he uses no enzymes nor sulfur and bottles without fining or filtering.  To quote Angiolino "The big difference between the majority of vine growers and my vine growing is my great respect for nature and that means no compromise.  I accept and defend what the land gives me without correcting, adding or subtracting to get more.  In the cellar I think the difference is even greater, some producers with the excuse of protecting or enhancing came to use six to eight chemicals added to the must or the wine, I disagree"
Angiolino makes both red and white wines. His whites are made with the Garganega and Trebbiano grapes.  The reds are made with Cabernet Sauvignon & Merlot mostly, but also with the Tocai Rosso (Grenache).  He is also one of the few in the world who make a natural sweet wine. A wine made with 100% dried Garganega grapes that is fermented with only indigenous yeasts, not filtered or fined and not sulfured.  This Recioto is a magnificent accompaniment to cakes and ice cream.
The wine for this tasting note is 100% Merlot.. Yes, Merlot. But, not the jammy, silky 14.5% Merlot we got bombarded with in California in the 80's & 90's.  This 12.5% Merlot is more reminiscent of something more rustic, something like you might find on the right bank in Bordeaux.  No, this is not a Bordeaux, but it's not your California Merlot Either….read on..
The Merlot grapes for this Rosso Masieri wine come from a single vineyard at the foot of the Gambellara hills.  The fermentation occurs in open-top wooden vats with 3-4 punch-downs a day.  After the 12-15 day fermentation, the skins are left to macerate with the juice for a further 10 days or so.  The wine is then racked to separate the liquid from the must.  Then wine is transferred to steel where it rests until bottling.  This wine was bottled May 21, 2010.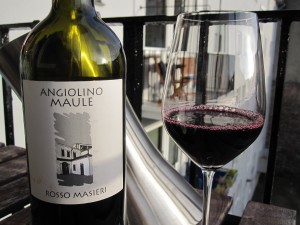 Date Tasted: July 29th, 2010 20:30 (8:30pm)
Appearance: dark purple with pink edges – very young
Nose: Black currants and green leaves, plums, morel cherries & black berries. Dark fruit dominated. Although I don't really find any red fruit, the wine smells very fresh and vibrant.  Some intriguing green notes, like fresh green peas.  Red apples start to emerge at 21:15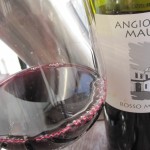 Palate: A slight tingle as the wine hits the tongue, but not CO2, rather minerals that dance on the tongue. Dark fruit dominant with some green notes which I attribute to more of a salty, minerally component.  Medium plus intense fruit with medium level tannins. The medium plus acidity carries the wine to a long, salty, mineral finish with slightly dry,  bitter tones.  Extremely well structured and balanced with well-integrated alcohol.  Slight pepper notes also found after a half an hour.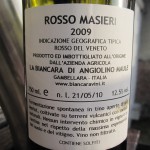 The strong points of this wine are the superb balance and structure. I particularly like the salty, mineral finish which I have come to expect in Maule's wines.  I would have to say that this wine is extremely delicious and drinkable.   This is not your ordinary Merlot, rather a true expression of Merlot growing on volcanic soil in the Veneto. And a bargain at around 165 Norwegian Kroner.  Oh, did I mention that this wine was mineral? 😉