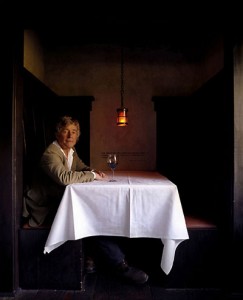 "Why would you want to drink a wine that, if it were a person, you would be bored of talking to?" -Sean Thackrey
Sean Thackrey's property is in Bolinas,  a one hour-drive north of San Francisco in western Marin County. After harvesting, Sean typically waits 24 hours before fermenting.  Although his wine-peers think he's crazy, he tells them that he's merely being guided by his collection of old and ancient texts relating to wine.  You can read more about this art-dealer-turned master vigneron here. I also recommend spending some time on Sean Thackrey's website, which is very unique.
Tonight I had the opportunity to taste his 8th vintage of his "base" wine, the Pleiades VIII.  Bottled in July of 1999, this Old Vine wine includes Syrah, Carignane, Zinfandel, Petite Syrah and Merlot (to name but a few). The grape mix varies from vintage (or edition) to vintage on this non-vintage wine. It's very difficult to find technical details about Sean's wine's, but from my tasting I can confirm that he uses some oak and most likely spontaneously ferments his wines using indigenous yeasts.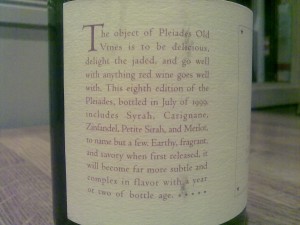 Date tasted:  Wednesday December 2nd, 2009 at 23:00
Appearance: Lightish brick-red with a slightly brown edge. Development showing. Dim lighting so I couldn't note the intensity. Unfiltered with notable sediment.
Nose: A wine with high intensity and a smoky nose with slight balsamic-like hints. Animal and barnyard aromas with hints of wet tobacco. Aromatic herbs, tiger balm, cranberry, dried Asian plums (the kind you find convered in a redish-orange powder).  Smells spontaneous (fermentation). Rose pedals. As the wine remained in the glass for 10 or 15 minutes, the nose tightened up and became a bit more focused.  A very interesting,  fresh bouquet.
Palate: Juicy with ripe, medium acidity.  Extremely mild and well-integrated alcohol (13.2%). Still very fresh with a long, dry finish with mild, mature tannins.  Cranberries and tobacco on the finish.  Extremely delicious to drink!