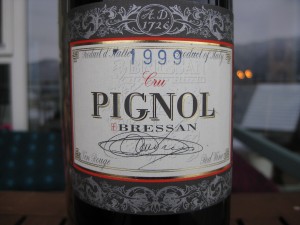 And along came the Pignolo grape, another very rare, refined, prestigious and indigenous grape of the Fruili-Venezia Giulia region in North-Eastern Italy.  This grape has the potential to make "Cru" level wines, like Bressan's Cru Pignol, a stunning example of what this grape can do when care is taken in the vineyards and the winery.   According to Fulvio, the Pignol needs at least 8 years of aging to become a great wine, and after tasting his latest Pignol release, I would have to agree. At 10 years of age, this wine is just a baby. Drinking well now, but begging to be left alone for another ten.
Soil Composition: Prevalently rocky, with a high presence of iron sesquioxides.  Such a pedological characteristic, associated with the scarce endowment of organic substances and nutritive elements, induces a vigorous development – extremely moderate production, with positive repercussions for MACRO and MICRO components of the grape and its wine.
Total surface area:  1.058 HA
Planting year:  1991
# vines/HA:  4630
Sun exposition:  Southern, with rows oriented Northwest-South
Harvest:  Physiologically correct, harvested by hand
Wine Making: Pignolo grapes brought to must, removed from their stalk and soft pressed, macerated over an extended period with principal fermentation along with their skins for 30 days, at a controlled temperature of 24C (75F).  After racking, the wine undergoes a secondary fermentation for 40 days in stainless steel followed by at least 3 years aging in 2000 liter oak casks. Bottled at Spring's end then stored in a temperature controlled warehouse for (circa) 15 months.
Alcohol content:  13.38%
Total acidity:  6.31 g/l
Date tasted: Saturday December 26th, 2009 12:02 (PM)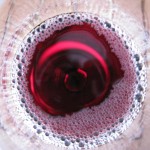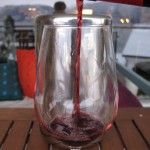 Appearance: Medium dark garnet red with some development showing. Medium to medium plus intense glow.
Nose: Medium intense wine with hints of white and rosé pepper. Wild berries. Hints of forest floor and some eucalyptus. Hints of dried blueberries and mineral. Floral with medium complexity now. May open up more.
Palate: Medium intense wine with wild berries, crushed pencil lead with hints of blueberries.  Mild, elegant tannins with medium plus acidity. Very fresh and long with hints of musk, white pepper and mineral on the finish. Secondary aromas of blackberries and raspberries emerge after 20-30 seconds making this wine very complex.  Extremely well-balanced and delicious.  Very youthful even at it's modest 10 years of age. Drink now or cellar for 10 more years.