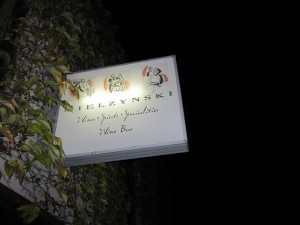 I recently had the opportunity to meet with some wine enthusiasts in Warsaw, Poland. I didn't know what to expect before the meeting except the fact that I had promised to bring 3 bottles of Magma and that they were extremely interested in tasting them.  On their part there was the promise to taste some Josko Gravner which also gave me something to look forward to.
I have to admit that most of my wine knowledge and experience have been gained living in Norway over the last 7 or so years.  I have tasted among whom I consider to be some of the best wine tasters I have seen.  Norwegians have refined palates and an amazing ability to analyze wine. I certainly feel privileged to have earned my experience in this country.  This being said, I was blown away by the tasting abilities of the small group that was gathered at  Mielżyński's for this tasting.
In a country that is jumping economically by leaps and bounds, most of it in the last two decades, it is still more common to see large commercial brands dominating the market.  This year I have witnessed wine shops opening up like mushrooms popping up after a rainfall, and often disappearing as quickly as those prized mushrooms. It was certainly a breath of fresh air, and of relief, to meet with such a group that not only had accumulated enormous wine knowledge, but who also seemed to really understand and enjoy wine without being captivated by a label, and have been doing so for years.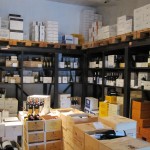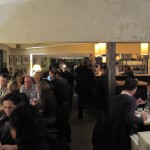 We met at Mielżyński's, a warehouse of sorts that is an import company, a warehouse, distribution center, wine bar and restaurant.  A concept founded by Robert Mielżyński,  born in Canada, studied Oenology in Fresno, California, then moved back to his native Poland.  A concept that seems to be working well for Robert judging by the fact that it was a Monday night and there were no empty tables.  The wine selection was quite diverse ranging from Domaine de Chevalier to Frédéric Magnien to Allesverloren. There was no wine list, just cases and cases of wine that you can pick and grab yourself, or have somebody help you with your selection.  Having lived in Norway for over 7 years now (where the government-run wine monopoly system is in full force), it has been a while since I have seen a place that you could buy wine to drink there or take-away.  The dinner menu was presented to us on a portable chalk board, like you might see in a Paris bistro, and included simple (and delicious) dishes like pumpkin soup, Cornish game hen and a couple of pasta dishes.
We started with a wine produced in Poland. A wine made not with grapes from the Vitis Vinifera species of vines responsible for almost every bottle of wine we consume, but rather from the crossing of  the Vitis Labrasca family and Vitis Vinifera.  The grape was called Hibernal, a white variety developed in Germany derived from a Seibel 7053 (V. Labrasca) & Riesling (V. Vinifera) cross.  An interesting wine made by a winery owned by Katarzyna Niemyjska and her husband with grapes from organic vineyards a few hours south of Warsaw.  On the nose the wine was slightly reductive at first, but with some swirling of the glass, the wine had smoky, mineral notes with light scents of lemons and herbs, most noticeably basil.  On the palate, lemons and bitter oranges, minerals and chalk. A bone dry wine with a nice acidic back bone and a slightly bitter finish. A fine and very interesting wine.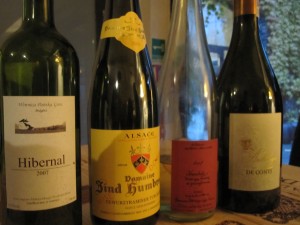 We then tasted good efforts from Zind Humbrecht, La Stoppa, Ostertag and Chateau Tour des Gendres.  We then moved on to some astounding wines from Josko Gravner. A 2000 Ribolla Gialla aged in Botti followed by a 2001 Ribolla Gialla in Amphora.  The difference from one wine to the next was astounding.  The 2001 Amphora version of the Ribolla had layers and layers of complex aromas and nuances that the 2000 just didn't have. Botti versus Amphora OR 2000 versus 2001? You tell me….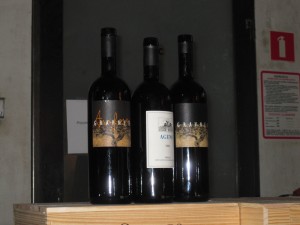 We moved on to the Damijan Ribolla Gialla 2002 from Friuli Venezia-Giulia, on the border of Slovenia.  Damijan Podversic pursues natural winemaking, which he learned from the aforementioned, great Friulian producer Josko Gravner.  He releases his vintages only when he deems them ready.  This was an intriguing effort from a not so intriguing vintage.  A skin macerated Ribolla, fermented only with indigenous yeasts, with a structure to rival most red wines  yet fresh enough to quaff even the most thirsty wine drinker.  This was my first time tasting the wines of Damijan and I look forward to the next.  There is very likely a bright future for Damijan Podversic.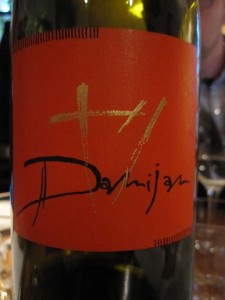 We completed the tasting with 3 versions of Frank Cornelissen's Magma 2. All hailing from the 2002 vintage, each bottle representing a different Contrada. We tasted the Marchesa, the Calderara and the Trefiletti.  All three wines showed extremely well, with the Marchesa being my favorite.
According to Frank, the Marchesa comes from the part of the vineyard that is normally very sun exposed and has a good balance between tannins and density.  The alcohol is rather low (13,7%) on this wine in this vintage.   The grapes were harvested on November 2nd and 504 bottles were produced.   Light red with very little age showing considering this was an 8 year-old wine made without the use of sulfur.  None to very little browning on the edges. Extremely youthful on the palate as well, with even a slight "spritz" on the tongue like you might find in a wine bottled within the last 12 months.  Very Poulsard-like fruit (think Overnoy here and you might get the idea), medium ripe acidity and tannins that increased with some time in the glass. A delicious wine with tons of drinkability.
The Calderara comes from a vineyard that is very stony and sun exposed.  In a cool vintage like 2002, the fragrances are very Pinot like according to Frank.  In general this contrada produces very high alcohol wines when picked ripe. Harvested on November 1st, 297 bottles produced.  This wine on the other hand showed its more serious side with hints of meat and herbs. The tannins held longer and the wine was darker and more "masculine" compared to the sensual femininity of the Marchesa.
The Trefiletti vineyard is located in Rovitello and is difficult to push to ripeness without losing all fruit due to rot (grey as well as noble).  "This is the only time I have been able to produce Magma there due to the above mentioned climatic difficulties. I love this place for its balanced tannins, structure and elegance when all odds and ends fall together in one vintage, like 2002 pushing all limits".  Harvested October 30th, 515 bottles produced.  This bottle was the most advanced of the three wines and showed it's higher alcohol (14,4%) a bit on the tongue with hints of olives and truffles not found on the other two Magmas.
When sharing my tasting notes of the Magmas with Frank, he came back with this:  "This is by far the most evolved set of wines I have ever produced. Beside this fact, I have always thought the Calderara was the most feminin/Burgundian of the three. Less tannic than for example the Marchesa which always needed a bit more time.
The Trefiletti was, I think, an off bottle. Too much oxygen exchange due to a lesser cork has led to a tired wine. This is the more younger and best balanced of all three crus."
This day in Warsaw, amongst such people and great wines, created a warmth inside that helped me feel at home in Poland.