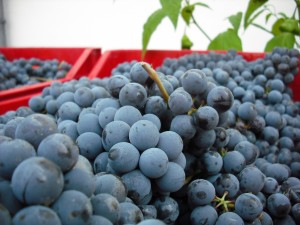 Friday October 3rd, 2009
Today we're on our way to harvest the Felice vineyard in San Rocco Seno d'Elvio (Barbaresco commune), owned by Felice Grasso. Our part of the vineyard was the part that was higher up. We were to harvest approximately 0.7ha.
It was a beautiful, warm sunny day. Fortunately we had the help of about 4 others, so in total we were 7 people up until lunch time. The grapes were beautiful and extremely healthy. There was barely any rot,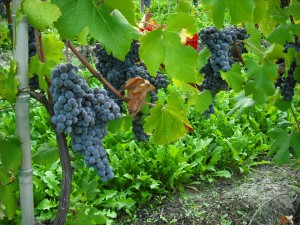 I would say less than 0.5% (perhaps even less). The grapes were juicy, balanced and extremely healthy. Jørgen, one of the leaders of this wine making project, had harvested this vineyard before, but it had been around 10 years ago. In his opinion, it was one of the finest vineyards in the Barbaresco area producing extremely elegant wines.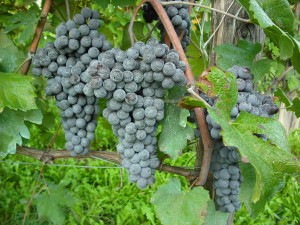 During the days leading up to the harvest and including the day of the harvest, Jørgen had made numerous phone calls to other wine makers to pose the sulfur question.  They pretty much all had the same thing to say: you should use some sulfur at the very beginning to help the fermentation begin in a healthy way. However, we really wanted to make this wine without the use of any sulfur at all, so during lunch we decided that because the grapes were so healthy, we would take the risk and let the grapes begin fermentation spontaneously without the addition of sulfur or yeast.
After lunch, we headed back to the vineyard to finish the harvest. We finished at around 18:00, carefully piled the containers in the truck and headed to the scales to weight the grapes. We had harvested approximately 3600 kilos of healthy grapes from the 0.7ha vineyard. This would give us about 2800 bottles of wine from this vineyard alone. We then drove the grapes back to the winery where we would make this wine. Since the winery was not in the Barbaresco commune (it was in the Asti commune) we could not label this wine as a Barbaresco DOCG. In fact, this wine is going to be a VdT (Vino da Tavola). On a Vdt wine label you are not allowed to put the name of the grape or the vintage.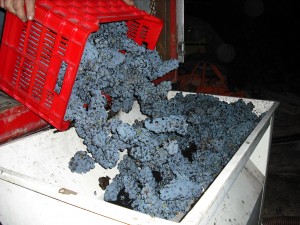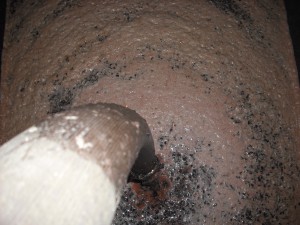 Once back at the winery we started to dump the containers into the small destemer. This machine removes the grapes from the stems and "crushes" them lightly. The grape must was then pumped down a tube into one of the cement containers. We filled the 30hl container and part of a 7hl with this harvest. The must was beautiful and sweet. We partly filled a wine bottle with the must to be analyzed the next morning for the potential alcohol. Now all there is left to do is to wait for the grapes to spontaneously ferment which should happen tomorrow or the next day.

Harvesting Nebbiolo in Felice Vineyard in Barbaresco from vinosseur on Vimeo.