Many of you are going to think this wasn't a fair comparison, so I will start this post by addressing that issue.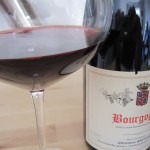 Ghislaine Barthod has been among my favorite wine makers in Burgundy for many years. Her Chambolle-Musigny "Les Charmes" can make me dance. I know I am not alone in this opinion.  Ghislaine Barthod owns approximately 6.75ha in the Burgundy village of Chambolle-Musigny.  Ghislaine took over the wine-making responsibilities from her father Gaston in 1987, and from the 1992 vintage, her name appears on the labels.  Ghislaine has since brought down the yields and added a sorting table. There is more temperature control during vinification now, more pigeage (punching down of the cap) and less remontage (pumping over).  She now bottles herself rather than contracting out and only fines and filters when absolutely necessary.  Her 2005's are known to be great, even at the Bourgogne Rouge (Village) level.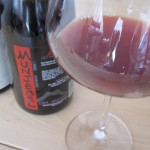 Frank Cornelissen is also one of my favorites as you already know.  I love his Contadino and absolutely go crazy for his Munjebel Bianco.  I have never tasted his Susucaru (so I can't comment here, sorry Cory) and I don't particularly love his Munjebel Rosso. I have written about Cornelissen numerous times, so I won't repeat myself. Just click here to refresh your memory.
Here is the reason I decided to compare these two wines:
I love Ghislaine Barthod's wines
2005 was a great vintage in Burgundy (especially the red wines), so I felt that even at the Village level, Barthod's wine should be especially delicious.
I love Frank Cornelissen, but don't particularly love the Munjebel Rosso
People (including myself) compare the Nerello Mascalese grape to the Pinot Noir
I had both wines in my cellar and they were both vintage 2005
Here's what happened:
19:30
Ghislaine Barthod Bourgogne Rouge (13%)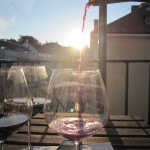 Appearance: Very clean, see thru red. Very typical Pinot Noir. No visible development
Nose: Classic Pinot Noir aromas with raspberries, cherries, loads of sweet fruit with very faint hints of moss and barn with just a dash of oak. Very open and very sexy indeed.  No noticeable development.
Palate: Very clean precise fruit. Raspberries and sour cherries with hints of oak. Great structure, mild tannins, medium acidity – very well balanced overall.  Very long finish.  Very open and drinking well right after the bottle was opened. Could possibly lay in the cellar 2-5 more years, or perhaps more.
Frank Cornelissen Munjebel Rosso (15%)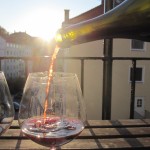 Appearance: Rusty red and developed. Not "clean", not filtered with visible sediment.  The color looks like the juice of a tomato.
Nose: A very open and developed bouquet of intense flowers, roses and cherries. More developed than the Burgundy with noticeable volatile acidity making it tough to go back and nose the Burgundy. Very intense.
Palate: A slight noticeable sparkle on the tongue as the wine hits the mouth. Great concentration and structure. Less "fruity" than the Burgundy. A very long finish and noticeable heat from the 15% alcohol.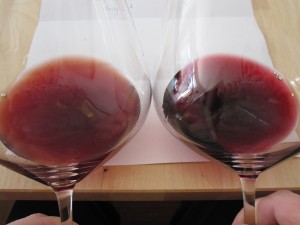 You can see through the Burgundy but you can't see through the Etna. Not necessarily because the Burgundy is lighter in color, but rather because the Etna is unfiltered and full of sediment (which is for the most part visible to the eye, but not noticeable (per se) on the palate.)
At this point in the comparison, we are preferring the Burgundy for its beauty, precise fruit and overall sexiness.
20:15
The Burgundy is showing no change. Still beautiful and sexy. Very enjoyable. Makes us smile 🙂
The Etna is getting slightly sweeter with the alcohol becoming less noticeable…hummm..
20:45
The  Burgundy has suddenly become for a lack of better words, "boring". It seems to have shut down.
The Etna becoming somehow lighter, fresher and sweeter on the fruit. Alcohol becoming less & less noticeable
21:01
The Burgundy at this point is closed. Save for some background tannins, the wine is thin. There is no more fruit and the acid has settled to a whisper.
The Etna is still very much open with hints of rosemary emerging now.
21:15
We have stopped drinking the Burgundy – still closed…
The Etna is totally alive and open with a lot of movement in the mouth. Alcohol at this point is barely noticeable.
We are both really enjoying the Etna now. We have stopped drinking the Burgundy altogether.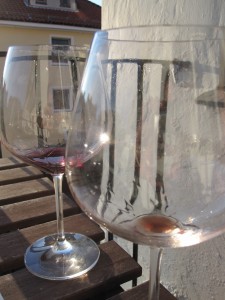 May 30th, 14:15…..the next day.

As I mentioned, we stopped drinking the Burgundy last night at 21:01, so I was lucky enough to find almost a glass left in the bottle today.  The Burgundy is just as intense as it was when we opened it the night before and just as sexy as ever.. Seems that the overnight rest has done the wine good and the only negative now is that the alcohol has become a bit more noticeable than it was last night.. I will enjoy this half glass now…..