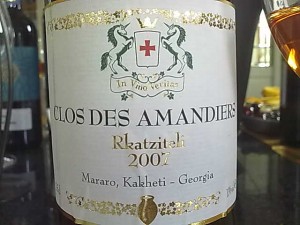 Now, back to the future (today) and the wines of Georgia, all hailing from the Kakheti region located in Eastern Georgia, the driest of the 3 regions.  It is the largest wine region in Georgia spanning over  11,000 square kilometers.
All three wines were (mostly) of the same grape variety, Rkatsiteli (or Rkatziteli – pronounced rkah-tsee-tely, and directly translated means "red vine").  The only Georgian wine experience I have had before today, was  tasting some half-sweet (non-representative) red wine that was poured from a decorated clay bottle, and let's just say it wasn't a wine to remember. In fact, I only remember the bottle to this day.   These three wines were not at all what I had anticipated. They were aromatic, complex, fresh and tannic wines that would do well with food.
This project started about 4 years ago when a group of Italian wine and spirit merchants (Luca & Paolo Gargano) from Genova purchased a 1.8ha vineyard in the village of Mararo.  With the help of Jean Jacques, a friend of Nicolas Joly, and a local farmer named Nodar Shinjiashvili who was  cultivating old varieties of cereals biodynamically, Clos des Amandiers was born.  In 2007 they released their first vintage, the first wine in my tasting.
The vines for this wine share the space with almond trees and are cultivated biodynamically.  Harvest occurred in October, the grapes subsequently softly pressed.  Fermentation occurred spontaneously with indigenous yeasts  in old Qvevri without temperature control.  Maceration lasted for six months in these Qvevri then transferred to smaller, non-buried Qvevri for 12 months maturation.  The wine was then bottled without filtration and left to age in the bottle.
Date tasted:  July 11th, 2010 13:45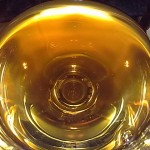 Appearance: Quite a dark orange hued wine with copper and amber tones (think Cat's Eye gemstones)
Nose: Wow, intense. Quite a sponty and wild nose of dried peaches, raw almonds, marmalade and yellow plums. Hints of jasmine and lavender emerge after about an hour.
Palate: A delicate and elegant entry. Red apples (yes, red) and yellow apples. Medium ++ tannins, medium + acidity (tangy). I found more fruit on the nose then I did on the palate.  The wine had a 30 second+ finish with dominating tannins and toast.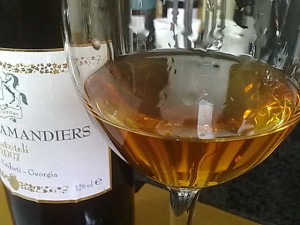 I feel that this wine would be very suitable to food.  Especially dishes with high contrasting flavors and moderately spicy food (because of the fruity aromas in the wine).  A dish specifically recommended to me would be yogurt-marinated baked mutton (meat of mature sheep).  My experience with orange wines is that they merry quite well with food in general, from your sweeter, more aromatic dishes, to meat dishes and finally with cheese.