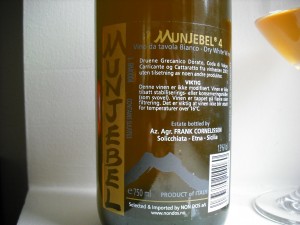 Date tasted:  June 2nd, 2009 15:00(3pm)
Frank Cornelissen owns about 12 ha on Mt. Etna in Sicily. He's a non-interventionist who says "Consequently this has taken us to avoiding all possible interventions on the land we cultivate, including any treatments, whether chemical, organic, or biodynamic, as these are all a mere reflection of the inability of man to accept nature as she is and will be."
On a postcard I recently received, he goes on to say  "To produce a bottle of genuine, natural wine, the recipe is simple:  take large quantities of dedication, determination, intuition and coherence.  To these ingredients throw in a strong dose of masochism in order to physically and emotionally survive the difficulties and downsides of this 'Art of Wine'.  Finally, enjoy a glass (or more) of this wine, before sending the rest around the world to good homes."
Of all the "natural" wines I have tasted, Frank's are always the most interesting.  I am not saying that his wines are the most well-made of the natural wines I have tasted, but his are always the most engergetic.  And, definitely the most natural tasting compared to his counterparts.  From the very rustic labeling, to the almost opaque  wines that are very obviously not filtered nor fined.
This "orange" wine is no exception.  Made from the local (white grapes) Grecanico Dorato, Coda di Volpe, Carricante and Cattaratto grapes, this orange wine is barely see through.  This cloudy wine is so packed full of sediment that I swore I could see chunks of grapes floating towards the bottom of the bottle.  Of course this is a "slight" exaggeration, but it sure made me happy knowing that this wine was made from something (grapes) that was growing wild in the vineyards, and nothing else.   His wines are the most natural of the natural wines I have tasted, and this wine was no exception.  His wines have a certain "energy" about them which is hard to put in words, but they make you feel good.
The grapes for this wine come from various vineyards on Mount Etna owned and cared for by Frank.  Frank harvests the approximate 13ha/hl of grapes totally by hand.  The bunches of grapes are put into a destemmer and crushed, not pressed at this time.  This machine is more of a crusher than a destemmer as it hardly removes any of the stems at all.
The must is then placed into plastic containers in his backyard (no temperature control here) which are then covered with a tent-like plastic material to keep the rain out.  Of course only indigenous yeast here.  The wine is left to spontaneously ferment and macerate with the skins for about 4 months giving the wine it's apricot-hued glow.  The wine is then pressed into Amphorae with the help of gravity and then bottled.  Absolutely nothing else is added to this wine. Nothing.  Not even SO2 (Sulfur Dioxide).  The wine is not fined nor filtered before being bottled and this is evident.  Since Frank bottle's his wine without filtration, the last wines bottled have more sediment than the first ones.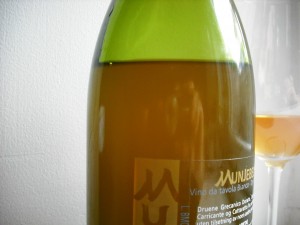 First tasting 1500 (3pm):
Appearance: A very cloudy, unfiltered appearance.  Loads of sediment which are very visible to the naked eye.  In the glass, the wine has an apricot juice hue with a medium intensity.  It is hard to analyze intensity with an unfiltered wine of this type (wine with high intensity glows can indicate a high level of intensity and vice versa).
Nose: Apricots with hints of minerals and loads of farmyard (those of you familiar with red Burgundy know what I am talking about).  The distinctive (for me) Cornelissen pickle juice.  Dry hay and flowers.
Palate: Wild just like the other Cornelissen wines.  Typical.  A little tingle at the front of the tongue initially from the slight residual CO2, which quickly burns off with a little swirling of the glass.  Medium minus tannins.  High acidity, but not harsh, just mouth watering and mature.  Pickles and smoke.  Kumquats.  Essence of apricots and peaches, but not sweet.    Bone dry with around 2g/liter of residual sugar according to my palate.
Second tasting 1809 (609pm):
Nose: Much more pickles and farmyard.  Less distinct apricots.  The apricot aromas I do get are of unripe apricots.
Palate: Medium minus tannins.  Rosemary, sweet yellow fruit at the back end, apricots.  Finish is long and persistent with mild tannins, great acid and smokey flavors.  The wine sits and sits.
Interesting to note that although the wine was dry, it paired well with sweeter dishes.  It worked well with my honey and lemon marinated chicken.  It was also working surprising well with my Mexican Cactus Fruit.. Strange….
I'm always fascinated with the fact that the few bottles of natural wine that I manage to keep open a few days seem to only improve.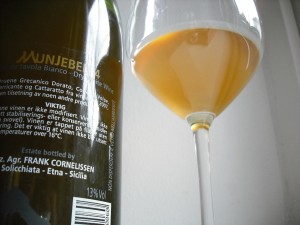 Please check out my video wine tasting of Frank Cornelissen's Rosso del Contadino! Click below and forgive the quality:

Wine Tasting with Vinosseur – 2007 Frank Cornelissen Rosso del Contadino 5 from vinosseur on Vimeo.