Monday October 5th, abortion 2009
Today we woke up around 7:30 to harvest the last of the two vineyards, doctor the Basarin.  The Basarin vineyard is located in Neive, (Barbaresco commune) and is owned by Vittorio and Marco Adriano of the Azienda Agricola Adriano.  The vineyard  is quite steep at 40% and is facing South East.  In total we harvested 2863 kilos of grapes from this vineyard which took us around 3.5 hours.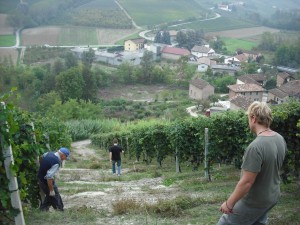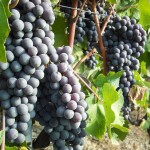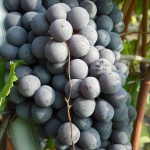 Compared to the Felice vineyard, it was easier to harvest because the grapes were more easily accessible on the vines and there was a little less selecting necessary because overall, they were healthier than the Felice grapes. The Nebbiolo vines in this vineyard are actually clippings from the Felice vineyard and were planted here in around 1993 (compared to 1971 for the Felice). Due to the difference in location and soil and overall "terroir", we found the grapes from Basarin to be more structured, with more tannins and acidity than the Felice grapes which were more feminine and elegant.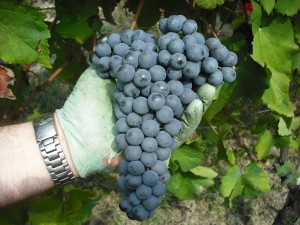 As soon as the fermentation really begins and the alcohol starts to go up a bit, we will pump over (gently) and blend so that the two vineyards are fermented together. In our opinion they will better integrate if they are blending during fermentation rather than blending post fermentation. The idea here is to get the elegance and femininity from Felice and structure and tannins from Basarin. So far we are very pleased with the fact that we've had spontaneous fermentation with indigenous yeasts without the use of sulfur!
After our lunch break, we put the grapes into the destemer and pumped the grapes into our second cement container of 25 hl. Before doing this, we added about 500 liters of fermenting must from Felice as a starter. The 25hl tank quickly filled up so we pumped the rest of the grapes into a 750 liter open top plastic container, exactly like the one Frank Cornelissen uses in Mount Etna.  To this plastic container we also added about 50 liters of the fermenting Felice vineyard juice.
We also took the opportunity to taste the juice from the first cement tank containing the Felice grapes… Very good indeed! Hints of alcohol starting to show (most likely only 1% at this point). It was super sweet and even had some mild tannins already.
Harvesting Nebbiolo in Basarin Vineyard in Barbaresco from vinosseur on Vimeo.