I remember when I first met Jérôme Saurigny  back in 2009 when I was visiting Patrick Desplats (Griottes). Patrick took us to meet his friend Jérôme and taste his wines. I still remember being blown away by his (dry) Sauvignon Blanc.  A Sauvignon like none I can remember tasting before. Just ripe, juicy fruit without the "off" aromas we are familiar with in a Sauvignon. You don't need to guess that Jérôme's wines are made with no additives, including the industrial yeasts so often added to Sauvignon Blanc's giving them their "characteristic" aromas. Of course he was a friend of Patrick's, so no surprise there.
As we left his place he handed me a small 50cl bottle of his sweet wine and told me to enjoy it. Well, I finally did – 3 years later. On one hand I don't know why the hell i waited 3 years to drink that wine, on the other hand I'm glad I did. It was worth the wait.
The "S" is made from Chenin Blanc grapes and is one of only a small handful of sweet wines that I know of that is made without any additions, including SO2. No easy feat for a sweet wine which is allowed to have up to 400 mg/liter (ppm) in the EU. This wine most likely clocks in at less than 25 mg/l. What the hell does this mean? Well it makes for  a much purer, cleaner wine.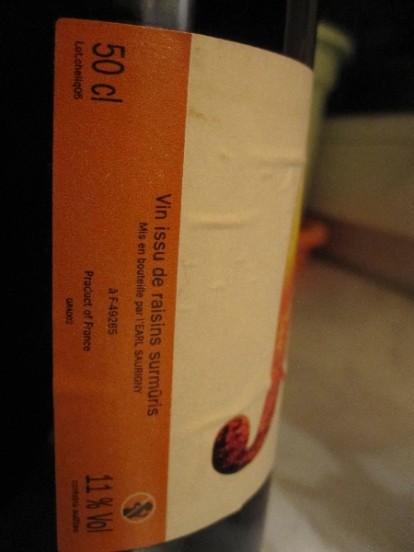 Date tasted:  October 15th, 2012
Ooohhh fuck was my first impression on the nose. Slightly volatile (compounds, which I love) with hints of yeast. Quince apples.  Slight "flor" hints. "Fresh walnuts"
Oh Jesus on the palate. Extremely fresh. Not sticky. Acid is medium-low, but refreshing.
A very drinkable dessert wines, not for sipping. Enjoy quickly since there is only 50cl