On my recent trip to France, I dove head first into the natural wine world, meeting with some of the greatest wine makers making wine today.  Between tasting the wines of these "hero's" of natural wine at the various natural wine bars in Paris, to visiting them at their "domains", I got to better understand their wines and the people behind them. I would like to apologize in advance for the quality of these photos!
Monday, November 2nd 2009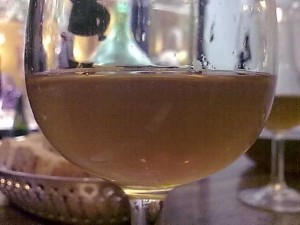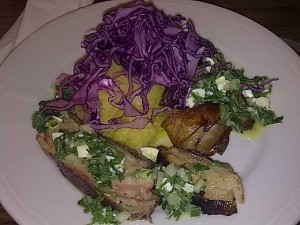 After having lunch with Jean-Marc Brignot (Jura) at Racines in Paris, where we consumed a 2002 skin-macerated Riesling from Alsace produced by Gérard Schueller with a gorgeous plate of pork, we headed for the Loire Valley. Our destination was Domaine Griottes, an approximate 5 hour drive south and West of Paris.  Since their wine "P'tite Gâterie" (here's a tasting note for this wine) had been on my wine list for the past 6 months, this was a visit I was looking forward to.
Domaine Griottes is located in the small village of Saint Lambert du Lattay. Located in the Loire Valley (within the Anjou appellation) about 26km south of Angers, 175km from the West Coast. Patrick Desplats & Sébastien Dervieux are growing and making delicious wines from an almost unheard of local variety called Pineau d'Aunis.  A grape that made wines consumed by the nobility between the 13th and 15th centuries, it has almost completely disappeared from the Loire Valley save for some brave & passionate wine makers like Patrick and Sébastien. The grape produces some of the most exciting spicy red wines with aromas of grapefruit and pencil shavings. In my opinion, Domaine Griottes make some of the best examples in the Loire Valley from this grape. (Griottes also produces whites from the Chenin Blanc grape). All work in the vineyards and harvesting is done by hand with the help of Patrick's ageing horse, Caroline.  Grapes are subsequently fermented in fiberglass. The P'tite Gâterie is then bottled, while the rest of the red cuvée's and the whites spend some time in oak after fermentation. Although the use of oak is moderate and these wines are great, the oak is detectable and not entirely to my palate.
We arrived around 2100 (9pm) and were quickly greeted by a very outgoing Patrick Desplats, a table full of things to eat
and of course wine by the magnum pouring.
We tasted all of the wines from previous vintages. Stunning wines all the way through the gamma, even the oak-influenced wines had stunning fruit qualities that could have only come from extremely healthy grapes that were subsequently spontaneously fermented, aged and bottled without even a milligram of sulfur! My kind of wines.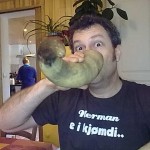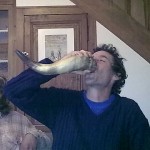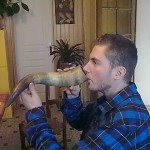 Tuesday, November 3rd 2009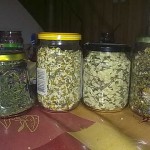 After a good night's rest at Patrick's house, we came down for a nice breakfast where we got to sample some of his home-dried natural teas made from various flowers and herbs growing in his yard.  Very inspirational!  We then headed over to the vineyards to see where his Pinea d'Aunis and Chenin Blanc was growing. In some of  their vineyards, the two grapes were growing together, side by side.  We shared a glass of wine with Patrick as we looked over the Loire Valley and talked about the nature and how passionate he was about what he was doing and the nature around him.  He and Sébastien had actually purchased a piece of forest separating his vineyards from the vineyards on the other side of the river. He wanted to keep the conventionally farmed vineyards as far away from his as possible.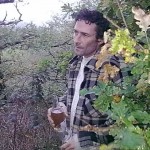 As the sun began to set, we headed over to his winery and sampled his 2009's directly from the fiberglass tanks. The fermentation was just finished. At this time, his 2009's seem to be stunning. Fantastically concentrated wines with incredible amounts of structure while they were still light and fresh.  His P'tite Gâterie (which is a blend of Pinea d'Aunis, Gamay and Grouillot, the amounts, and grapes, varying from vintage to vintage) will be bottled directly from the fiberglass tank it was fermented in. His other cuvées like La Griotte, will spend some time in oak before being bottled. After tasting the current vintage and as we headed towards the door to leave, we noticed a tank of SO2 hanging from the ceiling where Patrick had placed it to express his dislike of sulfur!