Here is a re-post of my original story which appeared on March 5, 2012 on the innovative new Polish wine site Winicjatywa.  I will be contributing my thoughts there on a regular basis.  If you are Polish reader of my blog, you can click here to read the Polish language version of this story.
I grew up in California, but spent almost every summer with my grandparents in Bologna, Italy.  Therefore it wasn't strange to me when back in 2006 Non Dos, the same guys that introduced me to the wines of Frank Cornelissen, also brought in a bottle of Camillo Donati's Lambrusco; a traditional red sparkling wine made from the Lambrusco grape from the Emilia Romagna region in Italy.
The Emilia Romagna is traditionally known for it's food & sports cars, but has never been regarded as a source of reputable, sought-after wines. Wine connoisseurs instead looked to the regions of Piemonte, Toscana and the Veneto to provide them with high-scoring wines with often inflated prices. The reputation of the Emilia Romagna instead rested comfortably on Prosciutto di Parma, Parmigiano Reggiano and the likes of Ferrari. I suppose this could be blamed in part on the fact that the one wine that the region was traditionally known for was it's sparkling red, often «amabile» (aka semi-sweet), Lambrusco, which by the way worked rather well with the aforementioned cured meat and mature cheese, but not especially while driving a Ferrari.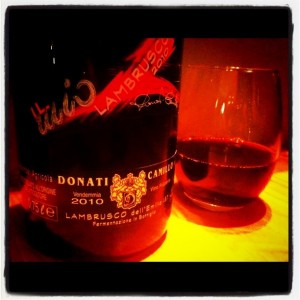 Tradition seems to be finally paying off as the Emilia Romagna looks to be emerging as a leader of traditional wine making in Italy (aka – low-intervention wine making), and the wines of Camillo Donati are among the best. He cultivates his 11 hectares of vineyards, and more than 8 varieties organically. Before the grapes arrive into the winery, a pinch of sulfur may be used in the tanks to sanitize them, but that's it. Each variety is then vinified and bottled on it's own without any additions, fining or filtration. The wines are bottled with some of their original must from the same vintage and are left to re-ferment in the bottle (creating the bubbles). The traditional closure of choice is the crown cap.
His two wines that stand out in my opinion are the «Il Mio Malvasia Secco», a skin-fermented white, and more importantly his «Il Mio Lambrusco», pictured here. His Lambrusco is so convincing that even the most reluctant would change their mind about this often disappointing sparkling red wine. His Lambrusco is not sweet but mysterious, deep & fresh. But most of all it is red and it has bubbles, and there is nothing wrong with that.