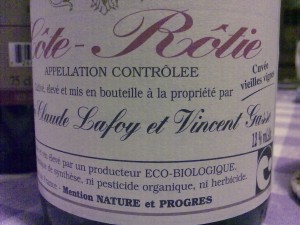 Date tasted:  October 8th, 2009 at 23:00
The Philosopher Grower Vincent Gasse lives just outside the main village of Ampuis, in the northern hamlet of Verenay, in the AOC Côte-Rôtie.  From here he conducts his private campaign – to solve the conflict of making truly organic wine off slopes that crumble when you hand work their soil.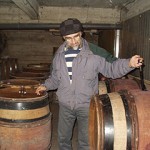 Vincent likes to stay out of the limelight.  At 60 he is professorial, with a beard and what could be called wild hair, prominent bushy eyebrows, and glasses.  In 2004  he decided to hang up his boots, and made just four casks of Côte-Rôtie from his plot on Le Goutay. His 1.3 hectares of vineyards, spread across five plots – Côte Rozier, Leyat, and Le Goutay on the full slopes and Bonnivière and Ritolas nearer the plateau – have been rented out to his fellow worker of the past seven years, Stéphane Otheguy.  The oldest are Leyat and Bonnivière – both around 1945-1955 and planted by Marie Lafoy's father, Pierre. The rest vary between 1985-1999.
Vincent makes his wine in the most constructive way possible since he feels strongly that the world's resources are being rapidly depleted.  He therefore carefully selects his vine stock, takes special care in the vineyards  and when he makes the wine.
Vincent works organically (éco-biologique) and says that there are enormous extra costs in doing so. "The one big problem, he says, is how to work the soil – the rest of the issues can be solved"
"On slopes, manual weeding and working will take 1,000-plus hours, versus just 10 hours if you spray weedkiller," he continues. "Say the weather is bad, you go up to 1,500 hours. And where are you going to find the people prepared to do this hard work? The challenge lies in the very word 'Côte-Rôtie' – which the next generation is going to have to find an answer to if they want to make true organic farming here economically sound."
His first destalking was in the early 1990's and vinification was in one open wood and one open concrete vat. No cultured yeasts have ever been used, and after a cool maceration, vinification would last over three weeks.
The two-year ageing was done in used 228-liter casks (of 2nd, 3rd or 4th passing). All the wine was bottled, without fining or filtration. The first bottling was in 1988, and there was Cuvée Sophia made from under 20-year Syrah off Côte Rozier and Ritolas, and a Vieilles Vignes (for this tasting note) from old vines that are purely massale selection (the practice of propagating new plant material from numerous selected mother vines in the vineyard), without any clonal presence.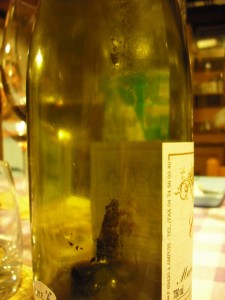 Soil:  Schist and clay 0,4 ha organic vineyard Guyot system 8800 vines per hectare 55 year average age of vines 39,5hl per hectare 100% hand harvest Spontaneous fermentation 22 months on the fine lees in used barriques No clarification or filtration 25 mg/liter total SO2 2100 bottles produced
Tasting Notes: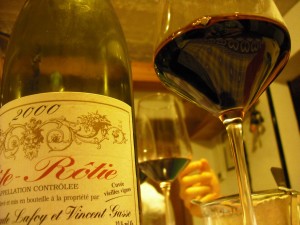 Appearance: Dark purplish-red with slight brownish edge. Medium plus intensity.
Nose: Medium intense, highly complex wine with aromas of cranberries,   blackberries and wild raspberries.  Spice, white pepper with a mineral backbone. Extremely complex bouquet with hints of black olives. Very intriguing and complex nose. Enticing.
Palate: Blackberries, wild cherries, cranberries, spice, dark olives with gripping medium level tannins with medium/high, mature acidity that carries the wine to a seemingly never-ending mineral finish. Very balanced and an impressive wine with only 12% alcohol. Very fresh and very drinkable. One of the freshest and lightest, yet concentrated Côte-Rôtie's I've tasted. An impressive feat considering the very warm 2000 vintage which typically produced high alcohol, jammy wines.
(Thanks to John Livingstone-Learmonth's "The Wines of the Northern Rhône" pages 93-95 for the Domaine and Vincent Gasse information used in this post)