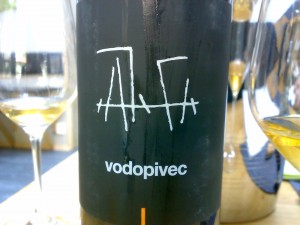 Date tasted:  June 2nd, 2009 15:00 (3pm)
In the hills and mountains of Friuli-Venezia Giulia in North Eastern Italy, there are a group of winemakers that wish to make wine like they did centuries ago.  They farm organically and believe very firmly in the principles of natural wine making.  Ancient methods of cultivation are employed and the white wines are treated to extended maceration periods on the skins, producing "orange" wines.   Indigenous yeasts are used without the use of temperature control.  Fermentation takes place naturally and spontaneously.  In some cases, this takes place outdoors in large terracotta Amphorae.
The Vodopivec brothers'  Valter and Paolo's winery is about 20 minutes north of Trieste, near the Slovenian border.  The brothers own a nursery and are plant and flower experts.  They have been making wine since 1995.  Up until the 2005 vintage, they have always used big Botti, now they are also using Amphorae.
The Vodopivec brothers usually bottle two different wines from the Vitovska grape.  The Vitovska grape is a vine with a greenish-gold berry that has always been cultivated in area of Trieste.  The name of the vine is undoubtedly of Slovenian origin, and was often called Vitovska Garganija.   The top bottling is the Solo, comprised of the top selection of grapes from older vines.  The second bottling is their second selection.
2005 was a challenging vintage with an overabundance of rain, therefore only one (hand) harvest was made. The Solo cuvée was not produced.  After harvesting, approximately 70% of the grapes were then fermented in Botti, the remaining 30% in Amphorae.  The wine was macerated with the skins for around 70 days.  Only indigenous yeast, no filtration, no treatments.  The botti were sprayed with about 10mg/liter of sulfur about 2 weeks before the harvest to "sterilize".  The Amphorae were not sprayed.
There were two bottlings for the declassified 2005 vintage.  The wine fermented and aged in Amphorae has an orange stripe on the label.  The wine fermented and aged in Botti has a green stripe on the label.  This bottle was the Amphorae version.  Price in Norwegian Kroner is 320 ($50)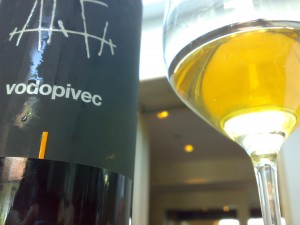 Appearance: Apricot, amber color. Clean. Medium plus intensity.
Nose: Spice, Cinnamon. Kumquat, Umami and orange peel.  Very intense and complex nose.  Keeps you going back to the glass to smell and smell again.  Also leaves the impression that this wine could be very fruity or even sweet.
Palate: Medium tannins and extremely focused fruit.  Orange peel and touches of spice.  Medium plus, mature acidity with a smooth, long and elegant finish.  Bone dry.  Really complex with some minerality on the finish.  Best enjoyed at closer to room temperature.  Goes very well with mature goat cheese.  I have also found success pairing this wine with pork belly in an Asian inspired sauce.
Although extremely enjoyable now in it's youth, the wine's concentration indicates to me the potential to lay down in the cellar for 5-8 years; perhaps more.