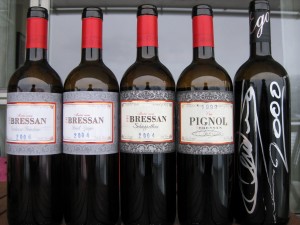 In Part I of the Bressan producer profile, I discussed in depth the philosophy of Fulvio Bressan.  Now I will present some of his wines which I had the opportunity to taste.  Bressan is an artisan wine producer making wine in extremely small quantities, between 0-50,000 bottles per year.  They specialize in the production of indigenous grape varieties, including the wine being tasted for this tasting note.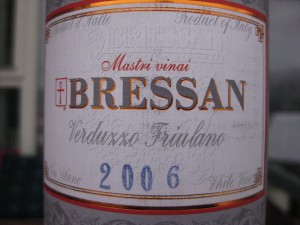 The Verduzzo (Friulano) grape is indigenous to Friuli, but can also be found in the Veneto.  According to Fulvio, it is very rare to find dry versions of the wine made from this grape (only 2 or 3 other producers in Friuli  make it dry).  The Verduzzo grapes is unusual in that it has high tannins like you might find in a red wine. Therefore, if the grape is harvested too early, the tannins can be quite bitter and harsh, and therefore wine makers began adding sugar to the wine to make it sweet, thus masking the bitterness of the tannins. In Fulvio's opinion (and in mine as well), a sweet wine will not be balanced when made in this way.  Fulvio instead picks his grapes at the optimal ripeness (because he is patient), and vinifies the wine as a dry wine.
The first thing you notice when pulling the cork out of the bottle is the quality of the cork itself. Fulvio swears by the quality of his corks and says that if you ever get a corked bottle, simply return the cork and he will refund you.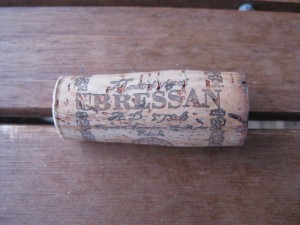 Soil composition: Calcareous mineral base, with high presence of iron sesquioxides.  Such geological characteristics, associated with this scarce endowment of organic and other nutritional elements, forces the vines to a slow vegetative growth, resulting in an extremely low production, with an overall benefit  to the MACRO and MICRO components of the grapes, and therefore the wines.
Total Surface:  1.51 HA
Planting year:  1990
# of Vines/HA:  4630
Sun exposition:  Southern, with rows oriented NORTHWEST-SOUTH
Harvest:  slightly late, by hand
Wine making: The grapes are de-stalked and macerated with the skins for 48 hours.  Cold-fermentation for 20-25 days, then transferred to 225-liter barriques (Slovenian I am told and most likely used since the oak was not dominant on this wine) where the wine stays on the fine lees for about 8 months.  Then the wine is "re-united" and placed into stainless steel tanks where it remains for another 2-3 months.  The wine is bottled at summers-end and placed in large chests containing 500 bottles each, then stored in a temperature-controlled warehouse for additional aging. The wine is released when Fulvio feels the wine is ready to be drunk.
Alcohol content:  13.63%
Total acidity:  5.45 g/l
Date tasted:  Saturday December 26th, 2009 12:02 (PM)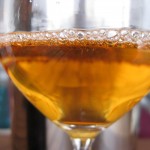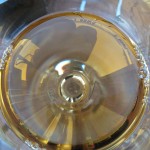 Appearance: "Ramato ("Coppery" in Italian, and a term used in Fruili)" – "Copper"-like color.  High intensity glow
Nose: Intense aromas of mature fruit leaning towards  peaches and apricots. Christmas-like spices and dried fruits with brandy-like hints (rancio?). Orange citrus emerging. Very fresh, complex and intriguing nose.
Palate: Intense wine with orange peel, some dried apricots and plenty of spices.  Brandy-like aromas also on the palate (rancio?), yet fresh and persistent. Well-balanced with intense fruit, mild tannins, medium to medium plus acidity carrying the wine to a very long finish. Very dry. Alcohol slightly noticeable, but once the bottle has been opened for an hour or so, the alcohol will integrate based on my previous tastings of this wine.  Would be great with food!