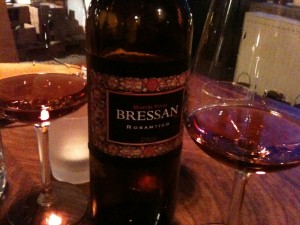 The Moscato Rosa vine has an ancient  history dating back to the  Austro-Hungarian Empire here in Friuli, hence the clever name on the label. Fulvio Bressan's family have always had this small (1 HA) vineyard, and Fulvio's father used to make a sweet wine from the vine, the traditional vinification method for this grape.  A rather rich history for this rather difficult little vineyard.
The vineyard had an extremely low yield of about 1500 liters in 2009 for the 1 HA, that's about 2000 bottles. And that was in a good year.  Bressan picks the grapes late to insure ripeness, which is tricky since this grape has a high level of "colatura" or risk of falling off the vine when ripe. But still he waits to pick the grapes late so that they are dry like sultana's, adding to the risk that botrytis cinerea (noble rot) will set in, which is not desired here.  Add these risks together and you  have the elements of total vintage loss, which is what happened  in the previous 7 vintages! Also no wine was made in 2010 and the 2011 is still in tank fermenting
After the manual harvest, the grapes were pressed and de-stalked. Maceration was for 3 days, fermentation was spontaneous thanks to the ambient yeasts present on the bunches. Alcoholic fermentation lasted for about 4 weeks, followed by an induced (by a small increase in temperature) malolactic fermentation.  The wine was then racked and left on the fine lees in stainless steel for two years, giving the grape the chance to show its elegance and personality. The wine was then bottled without filtration. The wine then continued for a bit longer for some bottle maturation.  Total alcohol is 13.20% and total acidity is a fresh 6,38 g/l.
Click here for some nerdy information for those who care.
Date tasted: March 3rd, 2012 18:30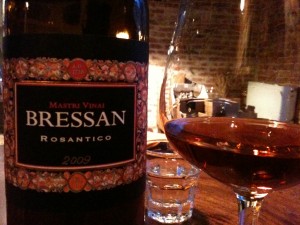 Appearance:  Normally I would say "see the photos", but since the photos i took were in a dimly-lit place, I will try and describe the color. It has more of a light-reddish-copperish color, than of a pure rosé like we might see from southern France. Like a pure extraction of fruit juice. Intriguing for sure. See photo 😉
Nose:  Wild fruits (berries) and rose pedals, very intense. Hints of floral soap, yes soap.
Palate:  Dry. Important to emphasize dry, as in none or very little residual sugar. Texture of a liquor, with the alcohol a bit noticeable but not enough to throw the wine out of balance. I think this aspect of the wine will integrate nicely in the coming years adding to its complexity. Super length and acidity giving this syrupy wine lots of freshness. Really very liquor-like in the texture. Like a syrup made of fresh berries.  The after taste had mild yeasty hints, which I liked.
Although enjoyable now, will be enjoyable for years to come for sure. Goodbye today's rosé and hello rosé for tomorrow!