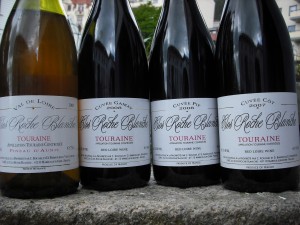 In Part I of Clos Roche Blanche the producer profile, I talked about the Loire Valley and this Domaine.  In this entry, Clos Roche Blanche Part II – "The Wines", I give detailed tasting notes for 4 wines that I was able to find here in Norway.  I was unfortunately unable to get a bottle of the acclaimed Cuvée Sauvignon Blanc nor was I able to get the other Cuvées.  When I do, I will be sure to write about them here on my site.
For this entry, the wines were all opened at the same time, Friday July 31st, 2009 at 16:45 (4:45pm) and tasted over the course of one week. Once opened they were simply stored with their original closures and kept in the refrigerator.  I did not pump the air out of the bottles. The first thing that struck me was that three of the four bottles used artificial plastic corks. Only the Cuvée Côt used a real cork. I am not sure how I feel about this as it's not unusual to use an artificial cork to seal a wine bottle.  However I have to admit that I do find it strange that winemakers who make wines as close to natural as possible are using anything other than real cork.  Please comment on your feelings regarding  this matter.
Here are the wines:
Pineau d'Aunis Rosé 2008 – 12% Alcohol – Synthetic Cork
Wine information:
100 % Pineau d'Aunis (Chenin Noir)
Average yield:  18hl/ha Terroir:  Clay-Siliceous Manual harvest Indigenous yeast, no chaptalisation Vinification:  direct pressing, vinification as "vin gris" (vin gris is white wine made from red grapes) 12 hours skin maceration
Alcoholic fermentation:  4 months 1700 bottles produced
Price in Norway is 130 NOK ($21)
Friday July 31st, 2009 16:45 (4:45pm)
Appearance: what's there not to like?!  A beautiful light pink grapefruit color. Absolutely lovely color. Clean with a medium intense glow.
Nose: The first aromas I note can only be described as "vitamin C", the smell you get when you first open a bottle of vitamin C chewable tablets. Aromas of pink grapefruit, hints of under ripe raspberries (red), hints of yeast  (the first bottle I sampled a few weeks ago had much more dominant yeast aromas which I did not like).  Medium intensity and medium complexity.
Palate: Very dry, with medium to medium plus intensity. Grapefruit and under ripe raspberries also on the palate. Medium body, great concentration and great length with yeast and mineral undertones. Very mild tannins.   Medium to medium plus acid.  Well integrated alcohol.  Wow, much better tasting experience today versus the last time I tasted this wine a few weeks ago.
Saturday August 1st, 2009 14:21 (2:21pm)
Appearance: Not much change, perhaps just a shade darker
Nose: Still pink grapefruit but today the yeasty/leesy smell is a bit more dominant.  Hints of pepper which weren't there yesterday.
Palate: still the pink grapefruit, put now the hints of pepper were also on the palate.  The yeasty feeling was  less noticeable than on the nose. Acidity is now medium plus (an increase from yesterday). There is a slight CO2 tingle at the front of the tongue. Hints of under ripe raspberry. Definitely more open then yesterday and a bit more serious
Sunday August 2nd, 2009 20:48 (8:48pm) – The wine is at it's peak today.

Appearance: No change
Nose: A little bit sweeter nose today. Red raspberries, but not too ripe. Still hints of yeast, but it's more of a peppery yeasty smell today. Citrus, pink grapefruit. Definitely more fruity today. Smells really nice
Palate: Very fruity initially with the raspberries and grapefruit really dominating. Less of the yeast today on the palate and a finish that is very long, fruity with hints of pepper and mineral. Very balanced, fruity and fresh. I am actually loving this wine today. Today is definitely the best it's been with the biggest improvement being on the fruit – its much more focused today than it has been and seems almost "sweet", though the wine is bone dry.    To sum up – sour red raspberries, fruity pink grapefruit with surrounding pepper notes and hints of yeast and mineral on the finish.. Wow… Looking forward to tasting it with my two types of Zucchini and red onion pasta.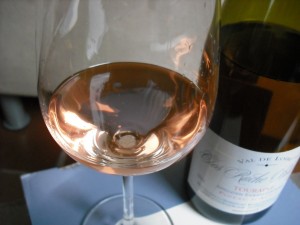 Monday August 3rd, 2009 23:28 (11:28pm)
Appearance: No change
Nose: the berries are going more towards wild berries today instead of under ripe raspberries. sweet pink grapefruit, red apples today – weren't there on the previous days. Overlaying pepper aromas. Hints of yeast, but mellowing with each passing day.  A fruitier "sweeter" nose today.  Although it may sound that the nose is more open today than yesterday, it was actually less appealing to me.
Palate: Acidity seems to have kicked up a notch today, but the fruit at the same time seems "sweeter". Red apples and raspberries, with a mineral finish with hints of bitterness, like the white part of the grapefruit. Still fresh and drinking well, but perhaps it was a bit more enticing yesterday. The bitterness is dominating a bit on the finish.
Tuesday August 4th, 2009 00:31 (12:31am)
Appearance: No change
Nose: pepper dominates with pink grapefruit. Hints of yeast.  Not volatile. Still smells fine
Palate: sweet pink grapefruit and red raspberries with a peppered finish. The alcohol is bit more noticeable today and the fruit a bit more subdued. It has lost a bit of the fruity edge today. Not as exciting.
Wednesday August 5th, 2009 17:35 (5:35pm)
Appearance: No change
Nose: Still driven by the pink grapefruit and pepper notes. Still no signs of volatility on the nose. Still fresh. Still has hints of yeast..
Palate: Still fresh, but that fruit edge it had on the third day seems to have diminished a bit.  Alcohol a bit  noticeable like it was yesterday. However, still very drinkable, but slipping a bit.
Thursday August 6th, 2009 23:54 (11:54pm) – Possibly peaking, again?

Appearance: No Change
Nose: Very fruity tonight with hints of pencil lead. Very ripe red berries.  Strawberries also showing tonight which I have not seen in the previous nights. No volatile aromas
Palate: Strange wine tonight. Very relaxed, fruity and fun. Ripe red fruit, namely raspberries with hints of strawberries. Also getting the hints of pencil lead on the palate. Hints of red apple, especially the skin.  Very fresh. Long, slightly bitter finish.
This is a wine that I don't particular enjoy when first opened. It did become enjoyable from Sunday night on with the most exciting nights being Sunday (3rd night open) and Thursday(7th night open).