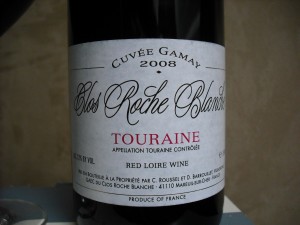 Cuvée Gamay 2008 12% Alcohol – synthetic cork
Wine information:
100% Gamay
Average yield:  22hl/ha Terroir:  Clay, mixed with flint & hard sandstone, calcareous sub soil, located at 1ères Côtes du Cher Manual harvest (100% destalking)
Indigenous yeast, no chaptalisation Vinification:  Traditional, one week maceration with daily pigeage or remontages (crushing & pumping over)
Aging in Stainless steel or concrete 10,400 bottles produced
Price in Norway is 130 NOK ($21)
Friday July 31st, 2009 16:45 (4:45pm)
Appearance: Darker then expected color for a Gamay.  Just barely see-through, almost opaque.   Red with purple highlights. Medium intense glow. Clean
Nose: Jumped out of the glass. High intensity. Pepper, black and red berries with hints of leather. Some dark stone fruit like plums. Hints of cocoa powder. Very fruity
Palate: Typically correct Gamay with spice, pepper, black and red berries also on the palate.   Great structure and mild tannins with medium plus acidity. Quite fresh. Although the alcohol is barely noticeable, the structure is that of a wine with higher alcohol.  Long, serious finish.. Have I found a replacement for L'Ancien??  Just 2 minutes in the glass and the tannins are becoming tighter which I personally love. Nice.
Saturday August 1st, 2009 14:21 (2:21pm)
Appearance: No change
Nose: A bit more mellow than yesterday, intensity medium plus. Classic Gamay nose with spice and red berries dominating today with hints of blackberry in the background. The leather and cocoa powder were there but to a lesser degree. Sweet cranberry and red licorice
Palate: Leaning more to the red berries today, raspberries and cranberries with pepper notes in the background. More serious and more elegant than yesterday. Although I enjoyed all the aromas yesterday, today they felt more united. Tannins were still mild, but gripped and held elegantly for at least 10 seconds or more. Nice long finish.  Very fresh. Don't feel the alcohol.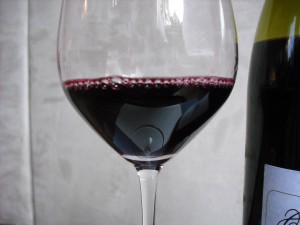 Sunday August 2nd, 2009 20:48 (8:48pm) – This wine is at it's peak today

Appearance: No change
Nose: still quite intense and peppery.  Same aromas as the previous days with the raspberries and cranberries with hints of darker fruit giving this wine some depth while remaining fresh. Pepper still dominates, but not overpowering
Palate: Very sweet fruit today. Sweet red licorice at first with ripe raspberries and pepper on the finish.  Mineral. Really drinking well today . Very typical (good) Gamay and fast becoming one of my top red grapes. Mild but gripping tannins with a ripe fruit finish. Very focused.   Just like the (Pineau d'Aunis) Rosé, the noticeable improvement on this wine tonight is the  focused fruit.. wow.
Monday August 3rd, 2009 23:28 (11:28pm)
Appearance: No Change
Nose: Again sweeter fruit. Red fruit dominating with less pepper than on previous days. Some underlying dark fruit like  blackberries. Sweet red licorice with hints of cranberries.  Some hints of watermelon emerging
Palate: Really red fruit driven with cranberries dominating and the tannins also stepping up. The wine is still very fresh and the acidity is really driving the wine today, but not overpowering it. Really intensely ripe fruit. Still very nice today.. Yummy.  Hints of bitterness on the finish with some minerals.
Tuesday August 4th, 2009 00:31 (12:31am)
Appearance: No change
Nose: pepper stepping up with underlying red fruit.  Hints of blackberries. Wild berries.  Floral hints as well.  Still has quite a pretty nose.
Palate: Like the Pinea d'Aunis Rosé, alcohol a tad more noticeable today. Good structure with mostly red fruits and pepper with hints of oxidation starting to show, although very slight. A tad bitter on the finish
Wednesday August 5th, 2009 17:35 (5:35pm)
Appearance: No change
Nose: Still pretty. Today the flowers are dominating.  Red and wild berries.  Pepper overtones.
Palate: Still very drinkable. Seems a bit more focused again today. A bit better than yesterday. Barely noticeable oxidation. Mostly red fruits on the palate and hints of pepper and mineral. Bitter finish. Still very drinkable.
Thursday August 6th, 2009 23:54 (11:54pm)
Appearance: No change
Nose: A bit darker tonight. Spicy blackberries. Tanbark (or pencil shavings) showing tonight.  Hints of Cocoa. No volatility
Palate: Nice. Cocoa and tannins taking the show. Blackberries on the finish with a hint of spice. Still has great length and freshness. Very, very slight oxidation on the palate, but still very drinkable. Really enjoying this wine tonight.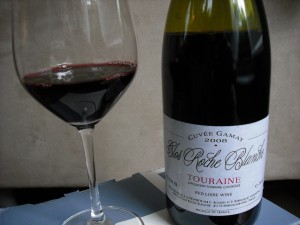 In summary, if you like fresh and light wines with hints of spice and dominating red fruit, this is a great wine. Well made and can go with many foods ranging from cheeses to fish and chicken. Another very stable and well-made wine from the Clos Roche Blanche Domaine.