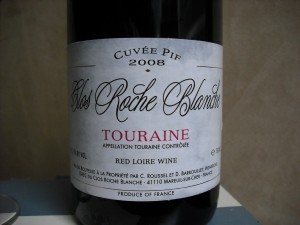 Cuvée Pif 2008 12% Alcohol – synthetic cork
Wine information:
50% Côt (Malbec)
50% Cabernet Franc
Average yield:  10hl/ha Terroir: Clay, mixed with flint and hard sandstone, calcareous sub-soil, located at 1ères Côtes du Cher Manual harvest (100% destalking)
Indigenous yeast, no chaptalisation Vinification:  Traditional, 8-10 days maceration with daily pigeage. Assemblage before the malolactic fermentation
Aging in Stainless steel
6,500 bottles produced
Price in Norway is 130 NOK ($21)
Friday July 31st, 2009 16:45 (4:45pm)
Appearance: Deeper color than the Gamay.  Leaning towards the color you might find in the S. Rhône. Darkish red purple.  Clean with a  medium intense glow
Nose: Ripe & juicy green bell pepper, blackberries with floral hints.  More complex than the Cuvée Gamay but not as intense dark plums and cherries at the back end.  The most interesting nose of the bunch so far. I am spending more time nosing this one than the previous wines.  Juicy
Palate: Again the juicy ripe green bell peppers and blackberries on the palate. Medium acid. Medium to medium plus tannins. Good concentration and depth. Of the three I have tasted to this point, this is the one that I feel has the greatest aging potential. The tannins, although only medium plus, are the dominant feature here with slight bitter hints on the finish. Quite young. Really getting the Cab Franc here…need something to eat. Medium to medium full
Saturday August 1st, 14:21
Appearance: None
Nose: Medium intense and still quite complex. Seems a bit tighter and more put together then yesterday. Still has hints of juicy green bell pepper, some blackberries with hints of black currants. Today reminds me a bit of a nice Bordeaux.  Hints of  worn leather and minerals.
Palate: Blackberries and green bell peppers immediately with black currants on the back end. Medium to medium plus tannins. Some cigar box and none of the bitter notes (only slight) I got yesterday.  Serious wine and for those who love  Bordeaux, you'll love this. Long fresh finish. Real aging capability here in my opinion. A food wine. Fresh. Wow.
Today the main difference is that the wines have tightened up a bit and seem to be a tad more elegant. I suppose its still to soon to tell!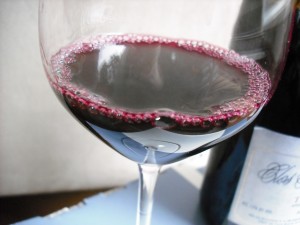 Sunday August 2nd, 20:48  this wine is at it's peak today

Appearance: Still dark and serious
Nose: Still mostly dominated by black fruit and green bell peppers but today the fruit stands out more than the peppers. Quite elegant today..
Palate: Lots of black fruit and green peppers. Still quite tannic, but not overpowering. I have to say that  although the fruit is mostly black in character, the wine has a certain freshness you don't often find in lets say, a Bordeaux.. a very clean wine. Long finish with solid tannins. Again, really focused and elegant today. The best day so far for this wine as well. If I had to complain about  anything, perhaps its the acidity.. could it be a tad higher`?? nah.
Monday August 3rd, 23:28
Appearance: No change
Nose: More floral than the previous days. The green peppers have mellowed to the background. Blackberries and black currants with an underlying lift of cool fresh fruit.
Palate: Green peppers still on the palate with really solid, lovely tannins carrying the wine to a really long, fresh, slightly bitter finish.. Still quite impressive. Really starting to love this wine's complexity. It's not common to  find a wine with this firm of a tannin structure, yet remain this fresh, light and low in alcohol..
Tuesday August 4th, 00:31
Appearance: No change
Nose: The green bell peppers have resurfaced. Blackberries and currants with floral undertones. Some red fruit lifting the wine
Palate: Tannins quite heavy today which coat the whole mouth. Green peppers and black fruit with a slightly bitter finish. Very Bordeaux like today, but the freshness slightly lacking today
Wednesday August 5th, 17:35
Appearance: No change
Nose: Still has the sweet green bell peppers and blackberries and black currants. Hints of red fruit, especially plums to help lift the wine.  No signs of oxidation.
Palate: Still quite Bordeaux like. Still has the green bell peppers dominating with blackberries. Tannins a bit more settled today.  Still drinking quite well.  Slightly bitter on the finish.
Thursday August 6th, 23:54
Appearance: No change
Nose: Slightly oxidized sweet green peppers. This is the most oxidized wine so far. Some black currants.  Not very expressive tonight.
Palate: A little volatile tonight. Still has the Bordeaux thing going on. Blackberries and green peppers with medium plus tannins. Slightly oxidized. Not very exciting tonight. Done.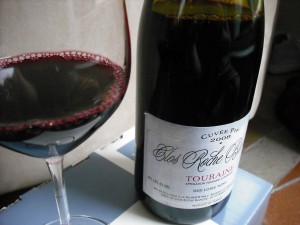 Even though this wine didn't hold up as well as the Pineau d'Aunis or Gamay, it was a great wine and a great substitute for those of you who are craving a Bordeaux-like wine.
I realize that I mentioned Bordeaux over and over again in my tasting notes. The reason I did this is perhaps because I have been in discussions lately with some close friends and fellow wine enthusiasts about why I don't have a single Bordeaux title on my restaurant wine list.  Although I won't go into all the reasons why I don't, I will just say that I feel the "average" Bordeaux drinker will enjoy this wine.  🙂