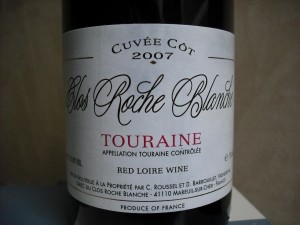 Cuvée Côt 2007 12% Alcohol – authentic cork
Wine Information:
100% Côt (Malbec)
Average yield:  20hl/ha Terroir: Clay, mixed with flint and hard sandstone, calcareous sub-soil, located at 1ères Côtes du Cher Manual harvest (100% destalking)
Indigenous yeast, no chaptalisation Vinification:  10 weeks  maceration in stainless steel
with daily remontage.
Aging in old, large barrels.
4,400 bottles produced
Price in Norway is 150 NOK ($25)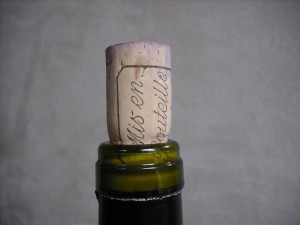 Friday July 31st, 2009 16:45 (4:45pm)
First thing I noticed upon opening this bottle is that of the 4 Clos Roche Blanche cuvée's, this is the only one with an authentic cork. It was also the only one of the 4 that was vintage 2007; the others were 2008.  I was told, however, that even in the 2008 an authentic cork was used for the Cuvée Côt.
Appearance: Not quite as dark as the Cuvée Pif..  Have I tasted these in the wrong order??  Medium red.  Medium intensity
Nose: Dirt, dark aromas of plums, dark cherries, with hints of reduction. Some mineral nuances.  Medium intense and not as complex as the Cuvée Pif.
Palate: Ripe, dark plums and dark cherries. Hints of raspberry, but only hints. More bitter on the back-end than the Pif. Mild tannins..strange they aren't more firm. Needs food. The least fruity wine of  the 4 Clos Roche Blanche cuvée's I've tasted. Tannins getting firmer after a few minutes in the glass. Really craving some beef now..Medium to medium full
Saturday August 1st, 14:21 (2:21pm)
Appearance: No change but definitely lighter than the Cuvée Pif
Nose: Still slight hints of reduction.. Red plums and minerals at first. Only medium intensity. Interesting nose – floral
Palate: slight hints of spice and a mild nuttiness. Plums and cherries. Mild, elegant tannins. Acidity is medium to medium plus. Hints of raspberry and a nice long, fresh finish. More fruity than yesterday. Tannins are sticking just a bit and seem to be getting a bit more aggressive and they don't feel as clean as the Pif.
Sunday August 2nd 20:48 (8:48pm)
Appearance: Same, still lighter than the Pif
Nose: A little less reduction and a bit less expressive than yesterday. Floral.  Today the nose reminds me of the Baga grape (rose pedals). Red plums and mineral and not a very giving wine.. Perhaps this is the wine that needs the most aging of the bunch
Palate: Quite fresh, plums and minerals. Still quite serious and not saying as much to me as the others are. Tannins that are sticking a bit, but the wine is quite fresh anyway. Hints of dark cherries as well. Really long finish that is very tannic. Possibly the longest finish of the bunch?? Wild berries
Monday August 3rd, 2009 23:28 (11:28pm)
Appearance: No change
Nose: Still a bit closed and not very expressive. Floral, wild berries.
Palate: Wild berries, hints of spice and mild yet gripping tannins with a slightly bitter finish. Still the least expressive of the bunch. Yet, mysterious.
Tuesday August 4th, 2009 00:31 (12:31am)
Appearance: No change
Nose: again flowers and wild berries,  but not totally open.
Palate: Wild berries and mild to medium tannins with a bitter aftertaste. Doesn't seem like this wine will totally open up to me. Slight oxidative notes on the finish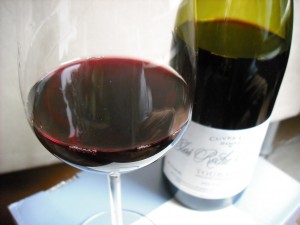 Wednesday August 5th, 2009 17:35 (5:35pm) this wine is at it's peak today

Appearance: No change
Nose: Flowers and wild berries. A bit more open today??  Mineral and black currant undertones. No reductive aromas.
Palate: Ah..seems a bit more expressive and complex today. Elegant wild berries with medium minus tannins. Good acid and length. The most improved of the group. Fresh berries also on the finish. Very mild bitter tones. Nice
Thursday August 6th, 2009 23:54 (11:54pm)
Appearance: No change
Nose: Mineral with black currants and oxidized notes on the back end. Closed compared to last night.
Palate: Oxidized a bit with black currants and a bitter aftertaste.Tough wine tonight and not enjoying it.
In summary, the Cuvée Côt was the wine that took the most amount of days to open and reach it's peak. While the other Clos Roche Blanche Cuvée's reached their peak on Sunday August 2nd, this wine did not fully open and reach it's peak until Wednesday, August 5th; 3 evenings after the other wines. It was also the wine that once having reached it's peak, had the shortest "life span" – only 24 hours. The other cuvée's reached their peak more quickly and stayed open and enjoyable over several days.
Perhaps this wine was not meant to be opened just yet. Even though I love young wines, I felt that this wine would have have been more interesting in 3-5 years.