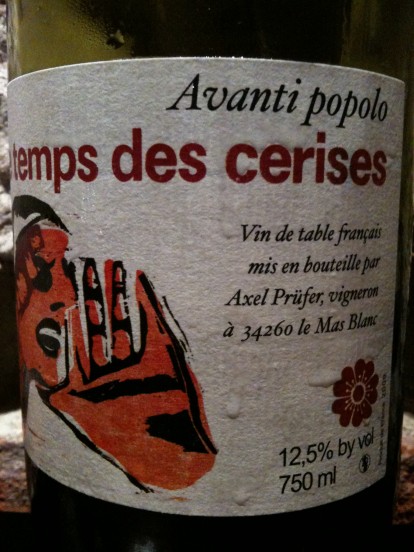 An East German making wine in the Languedoc, Axel Prüfer is right at home among the new generation of natural wine makers in France. His winery, Le Temps des Cerises, is located in the Orb Valley, just 16 km North and slightly West of Nimes.  Axel grows typically Southern Rhône varieties without the use of chemicals or herbicides.  His wines are fermented spontaneously and most are made without the addition of sulfur.
The 2009 Avanti Popolo is a pure Carignan grown on granitic quartz.
Date tasted: May 4th, 19:15
Appearance – light, slightly turbid raspberry red.
Nose – very ripe raspberries, a slight volatility helps lift the wine, making it very aromatic. Pomegranate, purple flowers, light mineral after taste. Cassis. Ripe watermelon.  I vividly remember an other time smelling watermelon on a wine – Gabrio Bini's Carignan (which he no longer makes unfortunately because I loved that wine and although I tasted it only once, I still remember it!)
Palate – much more expressive than on the nose. Tannins emerge quickly. Carbonic maceration? At least partial. Initially I found the wine a bit short, but balanced, fresh, juicy and Glog Glog – drinkable! Hints of bricks or stones.
20:00
gooseberries, nettles and hints of mint begin to appear on the nose
Palate has become more serious and much longer with more gripping tannins. And, once again, I wished this wasn't a half magnum!!